 New Study: The Data Behind Reward-Based Monetization in F2P Games
Free-to-Play (F2P) game economics are simple. The goal of a F2P game is to maximize revenue per user while keeping acquisition costs low. To achieve this, every F2P game has three common components to success; Acquisition, Engagement and Monetization.

While the economics may be simple, finding the right balance and recipe for success is difficult. Books have been written about the freemium economicsmodel but of the thousands of new games submitted to the app store every month, few achieve top grossing chart status.
The purpose of this post is to discuss game monetization. More specifically, F2P game monetization that leverages the use of virtual currency.
The two most common monetization strategies in F2P games are in-app purchases (iAP) and advertising. More recently, a new type of monetization strategy has entered the mix that combines both of these models. This model is known as reward-based or rewarded monetization. Rewarded monetization is unique to the F2P model and offers users the opportunity to earn in-game currency that they would otherwise have to pay for with real money.
There are four types of rewarded monetization most common in mobile games today: Rewarded Offers, Video, Installs and more recently, a rise in Rewarded Surveys. Each form supports one of three initiatives from the marketer; performance marketing, brand marketing or market research.

As a mobile research technology company, TapResearch wanted to better understand the motivations of F2P mobile gamers across all types of rewarded monetization to inform how we can optimize our core product: Rewarded Surveys.
Methodology
To do this, we polled ~400 F2P mobile gamers, in-game, with a 16 question rewarded survey. Each respondent was rewarded with in-app virtual currency for completing the survey in the game they were playing at the time. We asked them questions about their gaming usage, motivations, and preferences towards both purchasing and earning virtual currency in mobile games.
Here is a preview of our findings:
73% of survey respondents have purchased virtual currency in a game
Reward size is the most important factor when deciding how they earn virtual currency
Rewarded Video (86%) and Surveys (74%) were the most highly preferred action to earn virtual currency in F2P games
Demographics
We needed to understand who our respondents were. To do this, we asked them a series of standard demographic questions about their age, gender, household income, education level and more.
Below are a few highlights: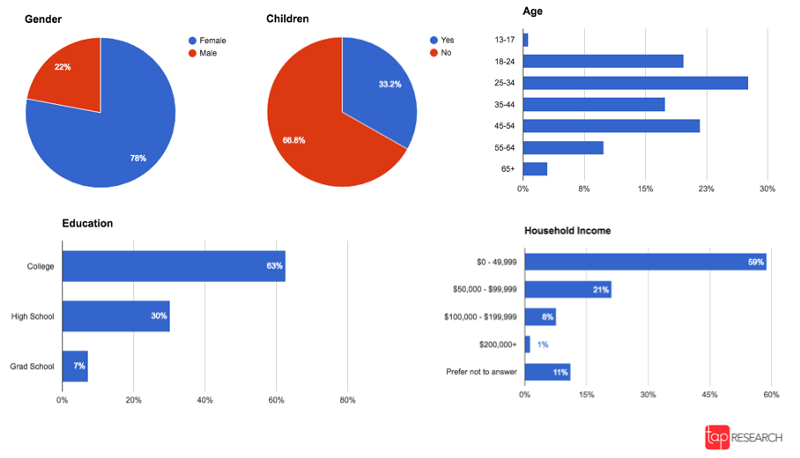 Results
The main survey consisted of 16 questions and took about 5 minutes to complete. The types of questions were specific to F2P mobile gamers.
The first thing we wanted to understand was information about the respondents', gaming behavior, purchase behavior, and motivations for making purchases and completing actions in games.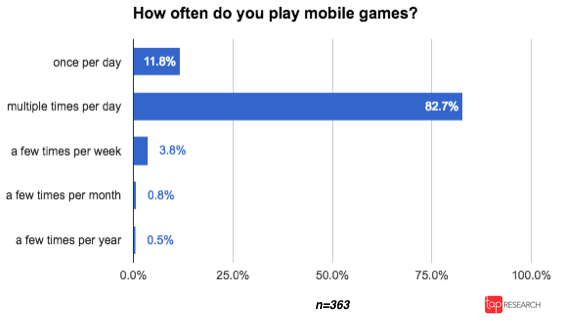 When asked if they have ever purchased virtual currency or upgrades in a game, 73% of respondents said yes.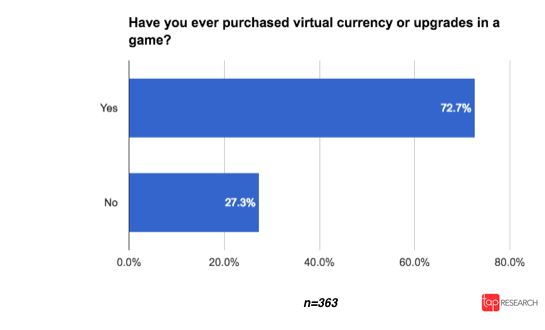 We also wanted to understand the core motivations for why these users purchase virtual currency. To our surprise, there was a near equal distribution across the top three answers.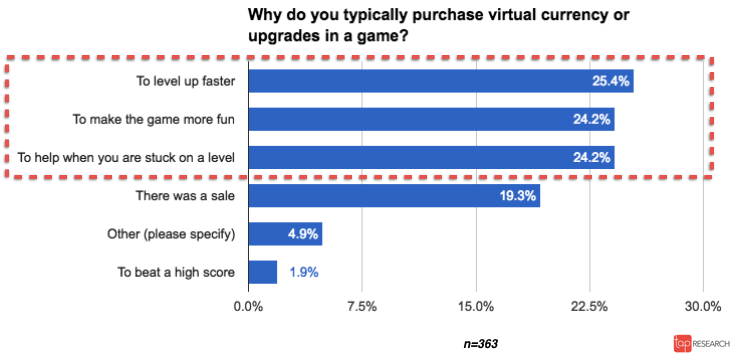 To gauge past activity, we asked them what actions they have performed in the past to earn virtual currency, and how often they complete these actions. Granted, there was an inherent selection bias because we asked users about their prior engagement with surveys while those users were in the midst of taking a survey.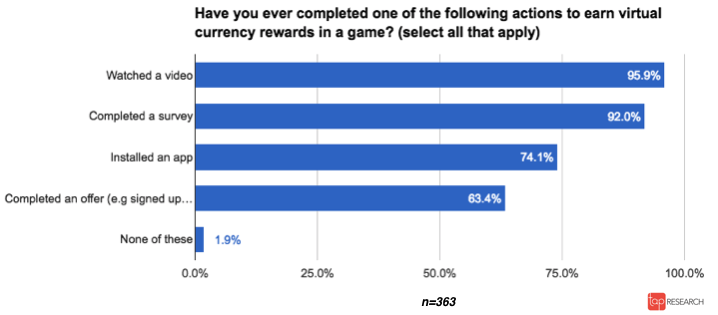 Furthermore, we asked about how frequently they completed rewarded actions in games they play, and nearly 60% responded that they completed rewarded actions more than 10 times per month.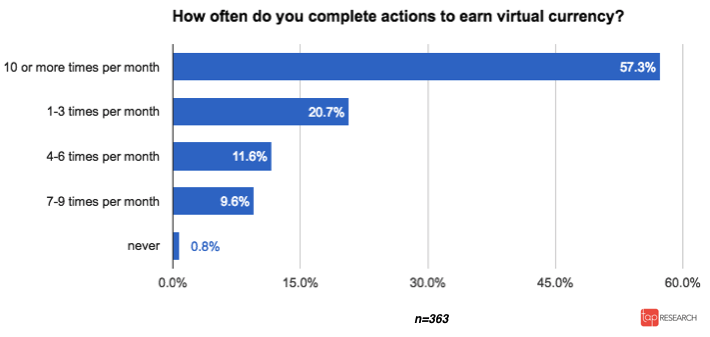 We wanted to know what actions F2P gamers actually prefer to take when deciding to earn virtual currency in a game. These responses fall inline with the industry trends regarding Rewarded Video and traditional Offerwalls.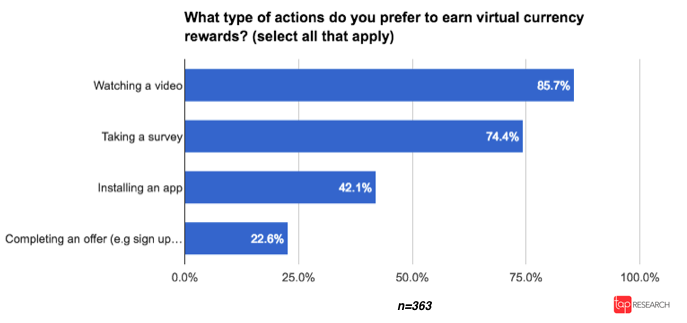 Lastly, we wanted to understand a bit more about users' decision making process when they are choosing what kind of rewarded action to take. This is one of the most valuable learnings of the study as it clearly highlights user intent behind earning currency in F2P games.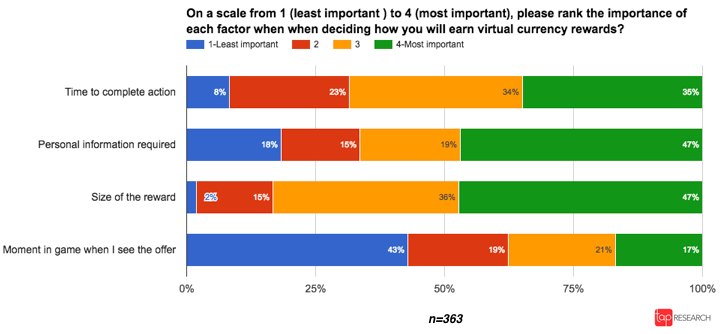 Reward size, time to completion, and personal information required were among the most important factors in users' decisions about which type of rewarded action they take.
Respondent Feedback
As always, we asked users to rate and leave feedback on the surveys they take. Below are a few highlights from this feedback.
"Thanks as always for seeking our feedback."
"Very interesting questions."
"Best Survey Ever."
"I like how they show the details of what other people said and it didn't need personal information."
"I loved it! It was so awesome! Thank you!"
Conclusions
We collected a tremendous amount of 1st-party data from our respondents to help us understand both who they are and what their preferences are towards rewarded monetization products in the market today. Using this data, we now know the age, gender, median income, education level, marital status and employment status of users likely to engage with a reward-based monetization product in a F2P game.
We also know why they will engage and more importantly, the key factors influencing their decision on which action to take.
Although "free" is the first word in the F2P gaming model, monetization is at the core of this business. Success requires a balanced monetization strategy that accounts for both gameplay and revenue generation. The strategy needs to support multiple user segments and maximize growth opportunities throughout the game. An unbalanced strategy risks high user churn and may miss essential conversion opportunities to earn revenue.
Data analytics is the foundation of the F2P model that unites all three key components of a successful game; Acquisition, Engagement and Monetization.
Reward-based monetization is just one piece of the F2P model that leverages a virtual economy. If you are a game developer, it is important to consider all forms of monetization. The purpose of this post is to inform game developers of the current trends in rewarded monetization. If you are considering adding rewarded monetization to your mix, you can view the full results of our study here.
If you would like to learn more about TapResearch, and about how Rewarded Surveys can generate net-new revenue and audience insights for your game, feel free to contact michael@tapresearch.com
---
About me
My name is Michael Sprague and I work at TapResearch, a mobile research technology company that helps game developers access global revenue and audience insights through personalized rewarded surveys.
Prior to this, I've held various marketing and business roles at Disney, Hasbro, Kiip and URX.
Thank you to Kevin Fishner, Ryan Lessard, and Kunaal Arya for their input and feedback on this post.