Introducing Player Insights: A new player feedback tool for game developers
Building a top-grossing game is not easy. The mobile landscape moves fast and continues to change; global privacy laws, UA models, player preferences, competition, retention strategies, and more. As the mobile landscape quickly changes; there is one constant, players want great game experiences that engage and entertain.
"Collecting feedback directly from players is hard and time-consuming."
The process of conducting in-app research is time-consuming and difficult to do on a regular basis. Most research solutions take players out of the game and they are usually not rewarded experiences.

That's why we're excited to announce Player Insights by TapResearch, a real-time feedback tool designed for F2P game operators.
What is Player Insights?
Player Insights is a powerful research tool that helps game teams (product, marketing, research, etc.) access high-quality player feedback, in real-time. Player Insights helps product and business owners take control of their feedback channels, operate with more confidence, and create better player experiences based on real feedback.
How does it work?
As a native in-app experience, Player Insights helps game development teams access players through rewarded survey experiences to collect feedback.
The process is simple:
Choose a player audience – choose the players you want to hear from
Ask questions – write easy survey questions you want to be answered
Get insights – collect real-time player feedback and insights
Players are rewarded with in-app virtual currency and never leave the app.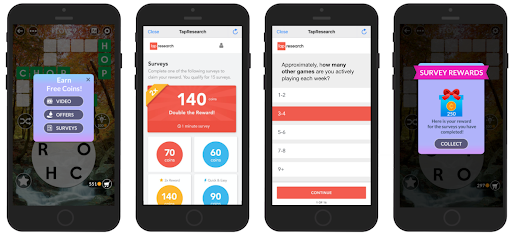 Player privacy by design
As an opt-in format, player privacy is built into the foundation of this experience. Each player is guided through a thoughtful onboarding process designed to educate and build trust. Player Insights is compliant with all major global privacy initiatives.
What can Player Insights do?
There is a broad range of use cases for Player Insights. The tool is designed to meet the needs of all types of users whether you're a trained research professional or not
Here's why some of the most innovative game companies are already using it:
User Acquisition – Understand why players install your game and replicate that in your marketing for more effective messaging and creative
Player Retention – Create instant feedback loops with players and continuously listen to their sentiment to identify at-risk players and reduce churn
Increase LTV

– Rapid validation surveys help you collect feedback from your most valuable players and validate new ideas quickly to create experiences that increase LTV
Here are a few examples of how they're doing it:
Examples
Description
Player Satisfaction

Track

Net Promoter Score (NPS)

and

CSAT

over time to understand who's happy and unhappy with your game.

App Store Message & Creative Testing
Measure players' reactions to new app store assets to help your team choose the right message.
Gamer Personas
Understand the motivations and beliefs of your players to inform the product roadmap.
Reduce Player Churn
Track the signals that lead to player churn over time.
Understand Price Sensitivity
Test your players' willingness to pay for iAP & bundles by collecting feedback on high and low price points.
Test Product Concepts
Capture player reactions with new feature prototypes.
Prioritize Product Roadmap
Prioritize product features based on player feedback.
There are many features our customers love: rewarded in-game experiences, rich first-party profiles, dynamic reporting, easy-to-use DIY interface, and CSV exports.

We are excited to release this new product to our mobile developers as you navigate through the dynamic mobile landscape to win and retain more players. In addition to our monetization solutions, Player Insights is our next step forward to helping our publishers innovate and succeed in mobile.
If you're interested in learning from your players, create a free account here and get started today!
TapResearch is the leading global insights and survey monetization platform advancing access to research and driving net-new revenue for today's most popular apps. Learn more at www.tapresearch.com or contact publishers@tapresearch.com.