High-Frequency Brand Tracking - The New Era of Brand Tracker

Consumer behavior and attitudes are changing faster than ever. Is your brand tracker doing enough to keep you on top of consumer trends or are you missing golden opportunities?
Brand tracking isn't about simply checking to see whether brand awareness ticked up this quarter or not. Brand performance tracking is about continuously measuring whether all the time, effort, and marketing budget you put into building your brand and growing your business is paying off.
Continuous brand tracking studies provide you with both quantitative and qualitative insights that help you make critical marketing decisions. Asking important questions like:
Do consumers even know who you are?
What is your brand perception?
Are your brand awareness campaigns making the positive impact you're looking for?
Is your brand even a consideration among many?
Are consumers likely to recommend you to their family and friends?
While the answers to these and many other questions can ultimately affect positive change in your marketing efforts, the frequency with which you get those questions is of paramount importance.
With over 30,000 new products hitting the shelves each year (Nielseniq) and today's fickle consumers changing brands on a regular basis, if you're only running brand tracking surveys every quarter, you have to ask yourself, is that frequent enough? Are you getting the timely insights you need to keep pace with the continuously changing consumer trends?
Consumer behavior and brand loyalty are changing rapidly with little to no signs of slowing down.
That's why high-frequency brand tracking is the game-changing solution many brands are now implementing.
In this post about high-frequency brand tracking, we're going to talk about:
What is Brand Tracking?
Brand tracking is the continuous measurement of key brand health metrics related to your brand-building activities such as brand awareness, brand consideration, brand lift, and more. Brand tracking gives you important insights into which marketing efforts are working and which are not. With regular tracking in place, you can make important decisions about where to focus your marketing budget and efforts.
But in this everchanging digital marketing world, consumer sentiment about your brand's products and services can change overnight. What was true 2 weeks ago may not be true tomorrow. Which makes high-frequency brand tracking more important than ever before.
What is High-Frequency Brand Tracking?
High-frequency brand tracking is the continuous measurement of your brand health metrics on a monthly, weekly, or even on a daily basis. High-frequency brand tracking helps ensure you get the timely consumer data and insights you need to make faster, smarter marketing decisions with full confidence.
"...it's taking a core consumer market research tool and putting it on steroids."
- Mary Beth Jowers, VP of Portfolio Strategy at Pernod Ricard
Your tracking frequency might vary depending on what you're measuring, but more often than not the more frequently you track your brand health metrics, the better off you'll be to take quick, decisive action.
What are the Benefits of High-Frequency Brand Tracking
To appreciate the benefits of high-frequency brand tracking, you have to understand what the benefits of brand tracking are in general. Brand tracking gives you the ability to understand what your audience wants and doesn't want.
It enables you to collect insights that help you:
Measure and evaluate the performance
Identify your strengths and weaknesses
Ideate new testing strategies
Discover market expansion & penetration opportunities
Keep an eye on your competitors
More!
Imagine getting key insights indicating that the brand awareness campaign you launched last week in the Northwest isn't working at all. Maybe you have an alternate backup plan to boost brand awareness ready to go. With high-frequency tracking in place, you can implement your alternate plan this week instead of burning through your budget waiting to find out a month from now that your original plan yielded poor results.
What if there's a sudden surge of negative consumer sentiment around a competitor's product. Getting that weekly insight allows you to immediately take advantage of a golden opportunity that might not be there in a month or two because your competitor had time to react and correct the situation.
You're making marketing and business decisions on a weekly and even daily basis. High-frequency brand tracking allows you to keep pace with your decisions and tell you whether they were good for your business or not.
As Troy Figgins, Head of Consumer Insights at King's Hawaiian pointed out about high-frequency brand tracking in our recent webinar about agile market research,
"Once a month isn't frequent enough…our media plan is by week. A lot of stuff might happen within a 4 week period." - Troy Figgins, Head of Consumer Insights, King's Hawaiian
By being able to identify consumer trends faster and with more granular insight, high-frequency tracking gives you the opportunity to make business-changing (even business-saving) decisions that traditional quarterly and annual brand tracking surveys just don't afford you.
12 Brand Health Metrics to Measure
As previously indicated, there are a number of key health metrics you can measure when conducting your own brand research. Of course, the ROI of brand awareness is not as obvious and quantifiable as conversion rate formulas, but that doesn't make it any less valuable.
Qualitative data is a powerful indicator of positive changes in your brand awareness and consumer sentiment. And when run frequently enough, qualitative data can end up yielding quantitative insights. Here are some critical brand health metrics you should be tracking on a regular basis.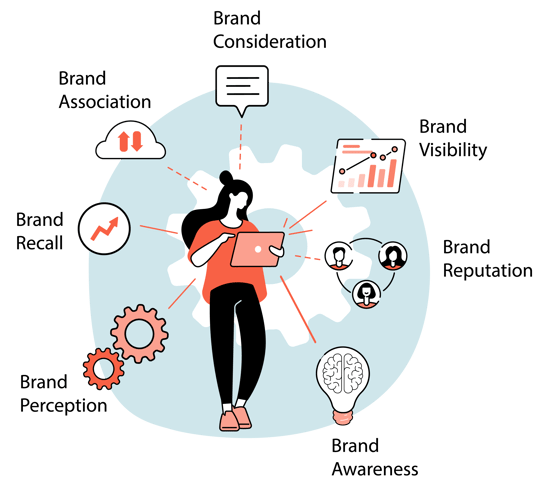 Net Promoter Score
NPS (Net Promoter Score) is a method of measuring consumer sentiment. Asking: On a scale of 0-10, how likely are you to recommend [brand] to your family and friends?. Use NPS to track improvements in customer sentiment against baselines and competitor data.
Brand Awareness
Brand awareness measures the consumers' ability to recognize your brand, whether aided (with a prompt) or unaided (without a prompt). When broken down by segment, you can more easily identify which audiences your messaging resonates with the most.
Brand Recall
Brand recall is the consumer's ability to remember your brand. This is a powerful measure to determine whether a marketing piece has contributed to brand awareness overall.
Brand Consideration
With multiple brands in every industry, category, and subcategory, consumers have many options. Brand consideration measures whether consumers even consider your brand as an option or not.
Brand Association
Brand association surveys help you find out how consumers feel about your brand. The insight here will help you determine whether your brand perception objectives & efforts are aligned with the actual brand association. You might be surprised to find positive opportunities to lean into or harmful associations you'll need to combat.
Brand Preference
Quite simply, brand preference measures how likely consumers are to buy your product over a competitor's product. You can easily calculate this by asking consumers from a list of products, which they prefer to buy.
Brand Usage
Brand usage metrics provide insights about:
Frequency of purchase
When they purchase
Where they purchase
How much they purchase
You can use this insight to craft targeted messaging that resonates with your audience.
Brand Loyalty
A simple but powerful question; "How likely are you to purchase [your product/service] from us again?", combined with brand association and perceived quality, you can get insight into why customers purchase your product.
Brand Visibility
Brand visibility measures how frequently consumers see your brand. Whether in search results, social channels, billboards, tv ads, or emails, brand visibility directly impacts brand awareness - ie, the more often you're seen the more likely you are to be recognized.
Brand Perceived Quality
Perceived quality helps you avoid blind spots about your brand or product by asking tough questions. Those questions are broken down into 7 subcategories for a product and 5 for a service.
Product
Performance of product
Features offered
Conformance with specifications/frequency of defects
Reliability of product
Durability of product
Serviceability
Fit and finish
Service
Tangibles
Reliability
Competence
Responsiveness
Empathy
Brand Perception
Brand perception is the culmination of a consumer's experiences, feelings, and thoughts about a brand's products or services. The key to brand perception is that it's what people actually believe about your brand and NOT what you say your brand is about.
Brand Reputation
If you care about brand reputation, then among many other factors, you should certainly care about third-party reviews. Brand reputation is the public's perception of a brand. It's all about the sentiment around your brand and is usually measured as Positive, Neutral, and Negative. And though each business experience is different, consumers still care about what other people are saying about your brand, with a whopping 98% of consumers saying they read online reviews for local businesses.
Brand Tracking Tools To Consider
There are a handful of ways to track your brand health metrics. Let's take a look at your options.
DIY Surveys
If you're a brand manager of a small team (even a team of 1) and you're looking for an easy, inexpensive brand performance tracking solution, you can use something like Google Surveys or even TapResearch's own Market Insights online survey platform. With the right questions and a large enough sample size, you can get insightful data.
However, if you're strapped for time and you don't feel confident about translating brand goals into the right survey questions or translating insights into actionable strategies, DIY surveys may not make the most sense for you.
If you need a brand tracker that's scalable and delivers the high-frequency brand tracking we're talking about, you need a more advanced brand tracking platform.
Social Listening Tools
After a fair amount of setup, social listening software can monitor, analyze, and inform you about online discussions that mention your brand and/or keywords that are important to your brand. Social listening tools sort and deliver data in three categories: positive, negative, and neutral sentiments.
These "brand tracking tools" often give you the capability to respond to conversations. This can be a blessing and a curse as 83% of people expect companies to respond to social media comments within a day or less. (Clutch)
Advanced Brand Tracking Platforms
Not all brand tracking platforms are the same. Many brand tracking solutions offer various features and usability options. And when you factor in the need for high-frequency brand tracking, your options become limited unless you're interested in paying an exorbitant amount of money.
With the TapResearch Brand Insights platform, powered by our proprietary Global Audience Network, you can get segmented, super granular consumer insights on a weekly, even daily frequency. Keeping your finger on the pulse of consumer trends as they're happening gives you the ability to make quick, decisive marketing decisions with the utmost confidence.
Ready to discover the power of high-frequency brand tracking? Click here to contact our team of experts to learn more.